Mark's Story
Before I signed up with Main Street Fitness personal training program, fitness was already a part of my lifestyle but not consistently.
My fitness background consisted of strength training, and while I was a police officer for 20 years, I trained with friends or was self-driven.
But I wasn't achieving my goal.
The two things that held me back from achieving my goal were
1) Fitness was not a priority, and I allowed life to get in the way
2) Lacked accountability
I knew accountability worked for me because when I was able to train with friends it was easy to make it to the gym, but the workout still lacked focus.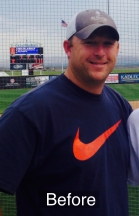 I finally decided to get serious about my health and fitness a couple years ago when a close friend of mine passed away. This tragedy made me start to think about being healthy for longevity, my family, and I knew I needed to find a way to be consistent. To achieve this goal, I needed to lose weight, improve my lifestyle, and to find a way to make me accountable.
I first heard about Main Street Fitness through a Facebook ad, and after I checked them out, they seemed like a good fit for me since it appeared they were focused on personalized fitness, and a positive community.
Instead of continuing on the path that was making me frustrated, I decided to make a commitment.
Since staring, I've been more consistent with workouts.
My results since working with a trainer for the last year have been a boosted stamina, lost 20+ pounds, increased lean muscle mass, have more confidence, and feeling younger.
Now, I'm confident I can sustain a fitness program to achieve long-term results, because I can't imagine not going to the gym.
If you're on the fence about personal training, I encourage you to commit to working with a trainer, and allowing their creativity to take over to make it fun, and to push you to the next level of fitness.