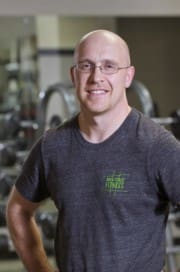 AARON COOK
Fitness has always been part of my life. Unfortunately, the fitness journey didn't start out well with the philosophy of lifting heavy and often. My programming was horrible, unbalanced, and probably not great form. So a great work ethic, but the lack of knowledge caused an overuse injury in my shoulder, which later had to be operated on during my senior year.
After experiencing physical therapy my passion for more knowledge of fitness became a strong desire, which lead me to go to school at MSU for Exercise Science.
Of course, once I graduated with my degree in Exercise Science I didn't know what to do with my life. So I decided to put my exercise knowledge to work in the field of landscaping for a few years. Even though I had the passion to be in the health field, I still didn't know how to get plugged in.
What I did know. Passionate about fitness, enjoyed working with people, an interest in nutrition, very interested in business, and enjoy taking risks. Sounds like a good combination to start a business.
How did it all start? 9 years ago a friend had been asking if I wanted to train him. I was resistant primarily of the fear of leaving a comfortable job, and venturing into a profession where I was told there was a high rate of failure for becoming a trainer.
Despite the nay sayers I finally took my buddy up on his request to be trained. AND to my surprise I didn't know I would love training so much, and he didn't know he was going to lose 100 pounds in 6 months. A handful of people noticed, and I was off and running with an exciting new venture.
Since then, the company has grown to 2 locations (Bozeman and Manhattan), and now with 6 additional trainers.
The company has grown with the simple principals of caring for people, creating a comfortable environment, trust, results, and a great client experience.
Our ideal clients:
New to fitness, but intimidated of the gym scene
Never been in a fitness program, but desire to know how to reach their goal with proper form, efficiency, and accountability.
Don't like fitness, but understand the importance
Have old injuries, and afraid to be reinjured
Busy professionals that don't have time to think of their own routines